Chief Ak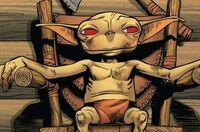 Characteristics
Unusual Features
Short; pale green skin; no pupils; pointed ears
Status
Origin
Ak was a goblin who was never treated with respect. He eventually ended up working for Chief Churple Rottooth, until the Chief tripped over himself and died, and Ak claimed that he killed the Chief, in an attempt to become chief. This did not go to well and the guard tried to kill Ak, but Ak through some soot into his face and placed a sack over his head before throwing him out the window. He then said he was chief, but the rest of the goblins disagreed and tried to kill him, which is when he realised that the one thing he could do better than any other goblin, was to survive.

Powers and AbilitiesEdit
Abilities
Survival - Ak has a tendency to survive in situations where most goblins would die.

ParaphernaliaEdit
Weapons
Sword - He once used a sword to defend himself from hostile goblins
Torch - He used a torch to burn a wooden building down

Ak got his name because of the noise made when he is being choked.
Ad blocker interference detected!
Wikia is a free-to-use site that makes money from advertising. We have a modified experience for viewers using ad blockers

Wikia is not accessible if you've made further modifications. Remove the custom ad blocker rule(s) and the page will load as expected.