Alethia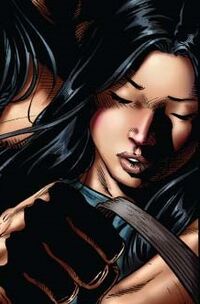 Characteristics
Status
Alethia is the younger sister of Ariok. Queen Sonja had sent her men out to kill Ariok, but had not realised that Alethia was with him. After becoming angry with her men, and especially at the one who tried to rape Alethia, she promised that Alethia will come to no harm. Sonja and Ariok decided to battle to the death, and if Sonja won, she would raise Alethia as if she was her own daughter. Alethia couldn't bear to watch as her brother was wounded, and she demanded that they stop fighting, but neither listened.

Powers and AbilitiesEdit
Powers
None

ParaphernaliaEdit
Transportation
Horse
- Alethia normally uses a horse as a mode of transport.
Weapons
None

Alethia is only a child, though her age is never revealed, but Sonja did say that if she killed Ariok, she would raise Alethia as if she was her own daughter.
Ad blocker interference detected!
Wikia is a free-to-use site that makes money from advertising. We have a modified experience for viewers using ad blockers

Wikia is not accessible if you've made further modifications. Remove the custom ad blocker rule(s) and the page will load as expected.