Ariok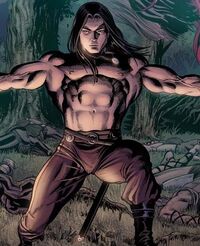 Characteristics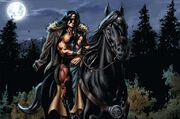 Queen Sonja had sent her men to kill Ariok, but was unaware that Alethia, Ariok's sister, was with him. After Sonja's men attacked and one attempted to rape Alethia, Ariok slaughtered them, and then Sonja arrived. They then discussed the matter, and decided that they would fight against each other, one-on-one, with no interference, with Sonja promising to raise Alethia if she kills Ariok. Ariok was wounded in the fight, but he continued nevertheless.

Powers and AbilitiesEdit
Powers
None

ParaphernaliaEdit
Transportation
Horse
- Ariok travelled on horseback, usually with his sister as well, though the horse was killed by Queen Sonja's men
Weapons
Sword - Ariok has a special blade which appears to be sentient. This blade has even bitten off the fingers of one of Sonja's men and if Ariok reaches his hand out, the blade will come to him.

Ariok is protective of his sister, and will kill anyone who attempts to harm her.
Ad blocker interference detected!
Wikia is a free-to-use site that makes money from advertising. We have a modified experience for viewers using ad blockers

Wikia is not accessible if you've made further modifications. Remove the custom ad blocker rule(s) and the page will load as expected.