Barannes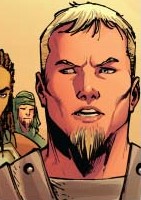 Characteristics
Status
Barannes was a mercenary hired to protect Osric's caravan, but after arriving in Luxur, Barannes and the other mercenaries were confronted by a group of guards led by Khalid-Thun as someone had accused them of raiding his caravan. Rather than a battle ensuing, Red Sonja decided to take blame and was arrested, but Baraness and the others were spared.
After Sonja was sent on a quest to find the Horn of Nergal, Barannes, Osric and Johndro went with her to help, and as she confronted the sorcerer who had the horn, the rest fought countless assassins. Along with the others, Barannes helped rescue Sonja and Yazmina from the collapsing Inner Sanctum.

Powers and AbilitiesEdit
Powers
None
Ad blocker interference detected!
Wikia is a free-to-use site that makes money from advertising. We have a modified experience for viewers using ad blockers

Wikia is not accessible if you've made further modifications. Remove the custom ad blocker rule(s) and the page will load as expected.