Blamazon (Earth-818793)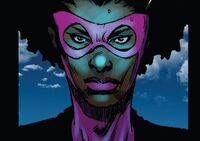 Characteristics
Status
Occupation
Former Olympian, Crime Fighter
Origin
First appearance
Appearance of Death
Unknown
Blamazon was born as a man, but after competing in the 2012 London Olympics, he decided to get a sex change.
Along with Pyramid, Blamazon was eventually killed. Green Hornet, Nikki Stripez and El Gato Rojo were the only survivors of the group.

Powers and AbilitiesEdit
Powers
None
Ad blocker interference detected!
Wikia is a free-to-use site that makes money from advertising. We have a modified experience for viewers using ad blockers

Wikia is not accessible if you've made further modifications. Remove the custom ad blocker rule(s) and the page will load as expected.