Bloodfang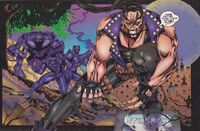 Characteristics
Unusual Features
Fangs; claws; pointed ears
Origin
Bloodfang was born to The Mother of Shadow after her daughter, Vampirella, was used as the unwilling vessel which would bring forth The Chaoschild.
He helped aid an alternate reality version of Vampirella, and they, with others, were able to defeat Chaoschild and the Cult of Chaos.

Powers and AbilitiesEdit
Powers
Unarmed Combat (Basic)
Weaknesses
Bloodlust - Bloodfang is prone to becoming violent when angered, which may cause him to kill and feed on blood.