Carthoris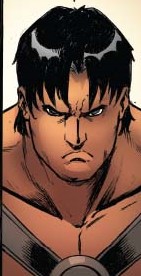 Base Of Operations
Mobile
Characteristics
Status
Occupation
Prince of Helium; Adventurer
Origin
Origin
Alien/Human hybrid
Carthoris is the son of John Carter and Dejah Thoris, and thus he is half Red Martian and half Earthman.
He fell in love with Linea, a Black Martian and descendent of Issus. She was eventually killed before anything came from their love.

Powers and AbilitiesEdit
Abilities
ParaphernaliaEdit
Weapons
Pistols
Sword

His name is a combination of his parents last names, Carter and Thoris.
Carthoris has had blue, brown and purple eyes in his comic appearances. His eyes are usually blue, however.
Ad blocker interference detected!
Wikia is a free-to-use site that makes money from advertising. We have a modified experience for viewers using ad blockers

Wikia is not accessible if you've made further modifications. Remove the custom ad blocker rule(s) and the page will load as expected.