Carthoris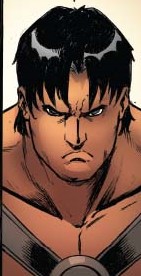 Base Of Operations
Mobile
Characteristics
Status
Occupation
Prince of Helium; Adventurer
Origin
Origin
Alien/Human hybrid
Carthoris is the son of John Carter and Dejah Thoris, and thus he is half Red Martian and half Earthman.
He fell in love with Linea, a Black Martian and descendent of Issus. She was eventually killed before anything came from their love.

Powers and AbilitiesEdit
Abilities
ParaphernaliaEdit
Weapons
Pistols
Sword

His name is a combination of his parents last names, Carter and Thoris.
Carthoris has had blue, brown and purple eyes in his comic appearances. His eyes are usually blue, however.