Chaoschild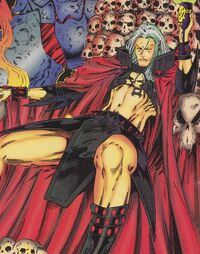 Characteristics
Status
Occupation
Leader of the Cult of Chaos
Origin
Origin
The mortal personification of Chaos.
First appearance
Appearance of Death
Chaoschild is the mortal personification of Chaos, and was brought into the world when the Cult of Chaos used Vampirella's body as a vessel to contain him. He was defeated by The Rook after Chaoschild used Husk's Chaos Skin and was shot by The Rook. He exploded with Dracula getting caught in the blast.

Powers and AbilitiesEdit
Powers
ParaphernaliaEdit
Equipment
Chaos Skin - Chaoschild temporarily used the Chaos Skin, which ended in his death and the Chaos Skin's destruction.