Origin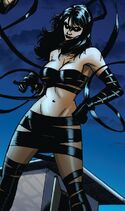 The Cyber-Filament Ribbons are currently used by a semi-reformed supervillainess named Nikki Stripez. She uses them as her weapons and clothing, and they are incredibly strong as they have been used to tie up and contain zombies.

Links and References
Edit
Ad blocker interference detected!
Wikia is a free-to-use site that makes money from advertising. We have a modified experience for viewers using ad blockers

Wikia is not accessible if you've made further modifications. Remove the custom ad blocker rule(s) and the page will load as expected.