Daniel Jackson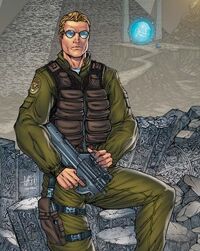 Characteristics
Status
Education
Ph. D. Level degree
Origin
Daniel is a member of StarGate SG-1 along with Captain Sam Carter, Colonel Jack O'Neal and Teal'c.

Powers and AbilitiesEdit
Abilities
Intelligence
Strength level
Daniel possesses the strength of a full grown man who engages in regular forms of exercise.

ParaphernaliaEdit
Transportation
Stargate
Weapons
Guns - Daniel tends not to use weapons as he's a pacifist, though he has used guns on occasion
Ad blocker interference detected!
Wikia is a free-to-use site that makes money from advertising. We have a modified experience for viewers using ad blockers

Wikia is not accessible if you've made further modifications. Remove the custom ad blocker rule(s) and the page will load as expected.