Danser Dervish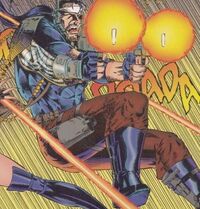 Current Alias
Danser Dervish
Characteristics
Status
Occupation
Agent of the Danse Macabre
Origin
Dervish is an agent, or danser, of the Danse Macabre. He has frequently worked with Vampirella and against the Cult of Chaos.

Powers and AbilitiesEdit
Abilities
ParaphernaliaEdit
Weapons
Blaster Pistols

Dervish had a tendency to speak too fast so it was hard to understand him. This nearly cost Danser Wild his life at one point.
Ad blocker interference detected!
Wikia is a free-to-use site that makes money from advertising. We have a modified experience for viewers using ad blockers

Wikia is not accessible if you've made further modifications. Remove the custom ad blocker rule(s) and the page will load as expected.