Characteristics
Status
Origin
Dejah Thoris is the Princess and temporary Queen of Helium, and the wife of John Carter and mother to Carthoris and Dejah Carter.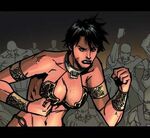 At one point, she had to disguise herself as a slave so she, along with some help from a few Warhoons, may disable a weapon and save both Helium and Thark from it's potential destruction from a group of Green Martians who were planning on using it to wipe out the whole of both Helium and Thark, as they despised the Red Martians and their fellow Green Martians, the Tharks.
Sometime later, she was accused of committing fraud and betrayal by Valoris, and was to be tried, and if found guilty, she was to be put to death. This is due to her father, Mors Kajak, the King of Helium was missing, and they had accused Dejah of being involved with the disappearance and/or murder (despite no body or evidence of his death being found). She was therefore arrested, and while in the prison cell, an assassin sent by Valoris had attempted to kill her, but she was able to overpower him and kicked him across the face, rendering him unconscious. Thana, Dejah's servant, had arrived to help her escape moments later, and the two went to see Orion, who helped Dejah escape Helium. After escaping Helium, she began using the name Larka.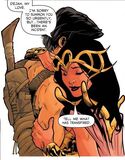 She has most recently teamed up with Tarzan, Jane Clayton, Jason Gridley and a bunch of adventurers in order to help Jason stop a potential threat before it's too late.

Powers and AbilitiesEdit
Abilities
ParaphernaliaEdit
Weapons
Daggers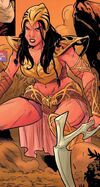 Battleaxes - As Larka, she used two battleaxes when in combat.
Pistol - She has on occasion used a pistol in combat, sometimes with her blade.

She became Queen of Barsoom after her father disappeared, though this was not permanent.
Ad blocker interference detected!
Wikia is a free-to-use site that makes money from advertising. We have a modified experience for viewers using ad blockers

Wikia is not accessible if you've made further modifications. Remove the custom ad blocker rule(s) and the page will load as expected.