Masquerade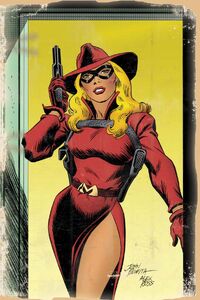 Characteristics
Status
Origin
First appearance
(as Miss Masque) (as Masquerade)
Diana Adams was the heroine known as Miss Masque, but during the Second World War, she was imprisoned in the Urn of Pandora by a misguided Fighting Yank.
60 years later, Diana was freed, though her time in the Urn meant that she now possessed superpowers, such as possession and shapeshifting, and also suffered from amnesia. She joined a group of superheroes who were also trapped in the Urn.

Powers and AbilitiesEdit
Powers
Possession
Abilities
Ad blocker interference detected!
Wikia is a free-to-use site that makes money from advertising. We have a modified experience for viewers using ad blockers

Wikia is not accessible if you've made further modifications. Remove the custom ad blocker rule(s) and the page will load as expected.