Fantomah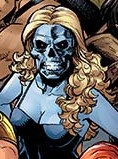 Characteristics
Unusual Features
Blue skin, skull-like face
Origin
History of character is unknown.

Powers and AbilitiesEdit
Powers
Transmutation
Abilities
Fantomah is a golden age character which is now considered as public domain, similar to a lot of Dynamite's other characters.

Dynamite have not given her her own series as of yet, but have included her in the Pathfinder: Worldscape series.
It is believed that Fantomah is the first female comic hero.
Ad blocker interference detected!
Wikia is a free-to-use site that makes money from advertising. We have a modified experience for viewers using ad blockers

Wikia is not accessible if you've made further modifications. Remove the custom ad blocker rule(s) and the page will load as expected.