Flork Fumblepot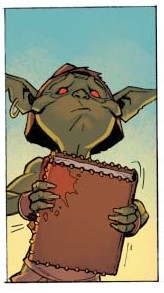 Real Name
Flork Fumblepot
Characteristics
Unusual Features
Green skin, short, pointed ears, no pupils
Status
Origin
First appearance
Appearance of Death
Flork Fumblepot was a goblin who, unlike most goblins, had a fascination with books. He thus became a writer and created stories such as Blork and Bleek, the Goblinteers and Rose and Gnomeo. Because of his writing and studying books, he was able to speak properly and in full sentences. However, when reciting some of his writings to the other goblins, he set on fire and burned to death.

Powers and AbilitiesEdit
Abilities
Reading - Flork was the only goblin who read books

ParaphernaliaEdit
Equipment
Books
Ad blocker interference detected!
Wikia is a free-to-use site that makes money from advertising. We have a modified experience for viewers using ad blockers

Wikia is not accessible if you've made further modifications. Remove the custom ad blocker rule(s) and the page will load as expected.