Ga-Ga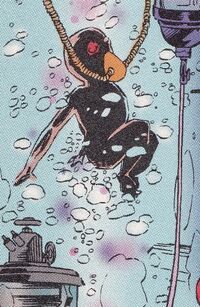 Characteristics
Unusual Features
Black skin
Origin
First appearance
Appearance of Death
Ga-Ga was a dark powered infant working for the Danse Macabre. He served as an advisor of sorts for Sabastian due to his extensive knowledge of dark magic and his knowledge of the multiverse and of the future.

Powers and AbilitiesEdit
Abilities
Ad blocker interference detected!
Wikia is a free-to-use site that makes money from advertising. We have a modified experience for viewers using ad blockers

Wikia is not accessible if you've made further modifications. Remove the custom ad blocker rule(s) and the page will load as expected.