Glasfindel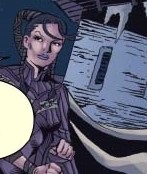 Characteristics
Origin
Glasfindel was a tracker and archer who travelled with Kahar and his men. After she came face-to-face with Red Sonja, she was willing to fight Kahar and his men rather than fighting Sonja, as she described Sonja as the devil itself and was terrified on her.

Powers and AbilitiesEdit
Abilities
ParaphernaliaEdit
Transportation
Horse
Weapons
Bow and Arrows
Ad blocker interference detected!
Wikia is a free-to-use site that makes money from advertising. We have a modified experience for viewers using ad blockers

Wikia is not accessible if you've made further modifications. Remove the custom ad blocker rule(s) and the page will load as expected.