Jenny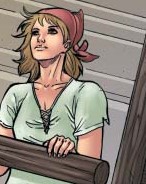 Characteristics
Status
Origin
Jenny was an ordinary woman who was kidnapped but rescued by Red Sonja. After Kahar and his group were looking for Sonja, they stopped in an inn for a drink and asked the barkeep if he knew anything about Sonja, and then someone brought Jenny in who told Kahar about the time she met the She-Devil.

Powers and AbilitiesEdit
Powers
None

She has been mistaken as a boy on two occasions, once by a bandit and once by Red Sonja.