John Callahan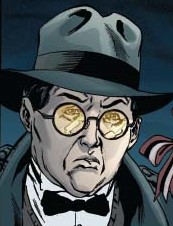 Aliases
FBI Agent John Callahan, Cunningham
Characteristics
Status
Occupation
Detective; FBI Agent
Origin
John Callahan was an FBI agent who worked alongside Mike Axford to identify who the Green Hornet was, and John was led to believe it was Britt Reid, though he little evidence to support his theory.

Powers and AbilitiesEdit
Abilities
Investigation
Weaknesses
John has poor eyesight, and so he needs glasses.

ParaphernaliaEdit
Equipment
Glasses

Mike Axford once called him Cunningham for some unknown reason.
Ad blocker interference detected!
Wikia is a free-to-use site that makes money from advertising. We have a modified experience for viewers using ad blockers

Wikia is not accessible if you've made further modifications. Remove the custom ad blocker rule(s) and the page will load as expected.