John Carter
Aliases
Warlord of Mars; Captain Jack Carter of Virginia; Jawn Kar-Turr
Characteristics
Status
Occupation
Adventurer; Warrior; formerly Soldier; Military Captain
Origin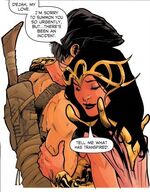 John Carter is originally from Earth, specifically Virginia, United States of America, during the Civil War in the 1860's. He eventually found himself on Mars, or as the Martians call it, Barsoom.
John has since became the husband of the Red Martian, Dejah Thoris, the Heliumite Princess. With Dejah, he has a son and a daughter. John was also the Warlord of Mars until the title was stripped from him by Councilman Valoris, who had arrested John's wife for treason and fraud.

Powers and AbilitiesEdit
Powers
Telepathy
Abilities
Swordsmanship - Due to his swordsmanship, John has become the Warlord of Mars.

ParaphernaliaEdit
Weapons
Pistol
Sword
Ad blocker interference detected!
Wikia is a free-to-use site that makes money from advertising. We have a modified experience for viewers using ad blockers

Wikia is not accessible if you've made further modifications. Remove the custom ad blocker rule(s) and the page will load as expected.