King Sartor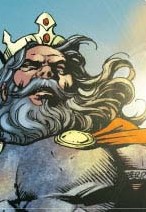 Current Alias
King Sartor
Characteristics
Status
Origin
Sartor was King of Hyrkania, and he was hated by many as he was a ruthless leader, causing suffering across the land. He had a daughter called Sha'Shana, and she was just as evil and ruthless as he was, and she even killed Melea, the lover of Xander and friend of Queen Sonja.

Powers and AbilitiesEdit
Powers
None
Ad blocker interference detected!
Wikia is a free-to-use site that makes money from advertising. We have a modified experience for viewers using ad blockers

Wikia is not accessible if you've made further modifications. Remove the custom ad blocker rule(s) and the page will load as expected.