Madam Figly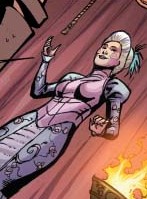 Current Alias
Madam Figly
Characteristics
Status
Origin
Madam Figly was in charge of a place which was home to many courtesans, including Aneva. Despite being welcoming upon the initial meeting of Red Sonja, as Sonja had convinced Aneva to leave, Figly had sent her guards, led by Captain Ferox, to hunt the two down.

Powers and AbilitiesEdit
Powers
None
Ad blocker interference detected!
Wikia is a free-to-use site that makes money from advertising. We have a modified experience for viewers using ad blockers

Wikia is not accessible if you've made further modifications. Remove the custom ad blocker rule(s) and the page will load as expected.