Merisiel Sillvari

Real Name
Merisiel Sillvari
Aliases
Merisiel the Rogue
Characteristics
Unusual Features
Pointed ears
Status
Origin
Merisiel is an Elf who was fighting Thulgroon alongside Valeros, Seoni and Kyra, when they ended up being teleported to Worldscape. She ended up at the arena when Valeros was battling against Red Sonja, which meant that Valeros was distracted, and Sonja stabbed Valeros through the gut.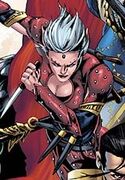 She prefers to use two daggers as her weapons of choice.

Powers and AbilitiesEdit
Abilities
ParaphernaliaEdit
Weapons
Daggers
Ad blocker interference detected!
Wikia is a free-to-use site that makes money from advertising. We have a modified experience for viewers using ad blockers

Wikia is not accessible if you've made further modifications. Remove the custom ad blocker rule(s) and the page will load as expected.