Midyan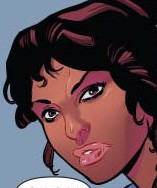 Characteristics
Origin
Midyan was an ally of Red Sonja and worked at the Theatre of the Blue Goat with Leshko. After Sonja had seemingly left Hyrkania during the civil conflict, she reluctantly joined the side of King Savas. Upon Sonja's return, Sonja saw Midyan on the back of Savas's horse, and assumed she had betrayed her. Midyan realised that Sonja felt betrayed, and helped her defeat Savas and Kanara.

Powers and AbilitiesEdit
Powers
None
Ad blocker interference detected!
Wikia is a free-to-use site that makes money from advertising. We have a modified experience for viewers using ad blockers

Wikia is not accessible if you've made further modifications. Remove the custom ad blocker rule(s) and the page will load as expected.