Characteristics
Status
Origin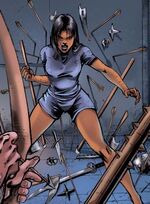 Mulan Kato is the second Kato, who replaced her father after he retired from the role. Her mother, Sayomi, was murdered by The Black Hornet and after Green Hornet killed him, his sister, Katsuko, tried to kill Mulan.

Powers and AbilitiesEdit
Abilities
Unarmed Combat (Advanced) - She was trained in several forms of martial arts by her father.
Ad blocker interference detected!
Wikia is a free-to-use site that makes money from advertising. We have a modified experience for viewers using ad blockers

Wikia is not accessible if you've made further modifications. Remove the custom ad blocker rule(s) and the page will load as expected.