Nikki Stripez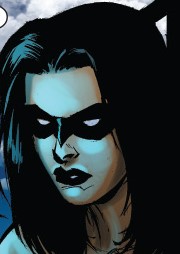 Current Alias
Nikki Stripez
Characteristics
Status
Occupation
Former Supervillainess
Origin
Nikki Stripez is a semi-reformed supervillainess who uses cyber-filament ribbons as her weapons/clothes. She joined forces with Green Hornet after they had a 'fling', and she even knows his secret identity.
She was part of a team alongside Green Hornet, Pyramid, Blamazon and El Gato Rojo, but Pyramid and Blamazon were killed and Nikki was wounded.

Powers and AbilitiesEdit
Powers
None

ParaphernaliaEdit
Equipment
Cyber-Filament Ribbons - Nikki uses the cyber-filament ribbons as both her outfit and as a weapon.
Ad blocker interference detected!
Wikia is a free-to-use site that makes money from advertising. We have a modified experience for viewers using ad blockers

Wikia is not accessible if you've made further modifications. Remove the custom ad blocker rule(s) and the page will load as expected.