Osric the Untouched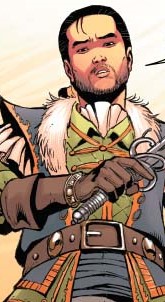 Current Alias
Osric the Untouched
Characteristics
Status
Origin
Osric was a swordsman who was known for being unbeatable in combat. He even defeated Red Sonja on two occasions. He took a vow of chastity, that he would never sleep with a woman unless they beat him in combat.

Powers and AbilitiesEdit
Powers
None
Abilities
Swordsmanship - Until Sonja beat him, he had never been beaten in battle.

ParaphernaliaEdit
Weapons
Sword

The vow of chastity taken by Osric is similar to the one Red Sonja had taken in Volume 1, where Sonja could not sleep with a man unless he best her in combat, which rarely happened.