Pha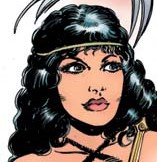 Aliases
formerly Queen Pha
Characteristics
Status
Origin
Pha used to be Queen of Shareen until Empress Camilla took away her kingdom. After she was no longer Queen, she became a fighter in the arena, and she plotted to become Camilla's new champion so she could get close enough to kill Camilla. While in the jail of the arena, she met Valeros, and the two began to talk, and became friends, with Pha even telling Valeros that if she does not become the new Champion, then it should be Valeros who should and then kill Camilla when given the opportunity. They then had to fight each other in the arena, and Valeros bested Pha, but he spared her life.

ParaphernaliaEdit
Weapons
Spear - She used a spear when she fought Valeros.
Ad blocker interference detected!
Wikia is a free-to-use site that makes money from advertising. We have a modified experience for viewers using ad blockers

Wikia is not accessible if you've made further modifications. Remove the custom ad blocker rule(s) and the page will load as expected.