Husk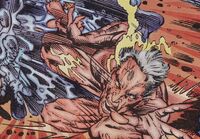 Characteristics
Status
Occupation
Servant of Chaoschild
Origin
First appearance
Appearance of Death
Sabastian was the former leader of the Danse Macabre before he killed Restin Dane in order to get the Chaos Skin.
He was eventually killed after the room he was in exploded after the Chaos Skin was destroyed by The Rook.

ParaphernaliaEdit
Equipment
Chaos Skin - He is in possession of a sentient suit known as Husk, which is an alternate reality of Slough, The Rook's suit.
Ad blocker interference detected!
Wikia is a free-to-use site that makes money from advertising. We have a modified experience for viewers using ad blockers

Wikia is not accessible if you've made further modifications. Remove the custom ad blocker rule(s) and the page will load as expected.