Savas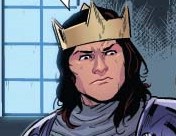 Aliases
King Savas; King of Hyrkania
Characteristics
Status
Origin
Savas was a former lover of Red Sonja. After meeting Sonja years later, they quickly became enemies as Savas was king of Hyrkania, and Sonja has allied herself with the rebellion against him. King Savas had gone mad with power, and was to marry Kanara, who had dyed her hair red and called herself Sonja, before the true Red Sonja put an end to it and had the two imprisoned after they had tried to kill her.

Powers and AbilitiesEdit
Powers
None
Ad blocker interference detected!
Wikia is a free-to-use site that makes money from advertising. We have a modified experience for viewers using ad blockers

Wikia is not accessible if you've made further modifications. Remove the custom ad blocker rule(s) and the page will load as expected.