Pride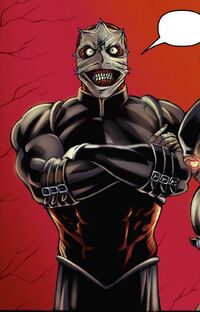 Real Name
Sebastian Abraham
Characteristics
Status
Occupation
Physical Representation of Pride; formerly Actor
Origin
First appearance
Appearance of Death
Sebastian Abraham was a child actor, best known as the star of the eighties children's show Sebastian Is A Precocious Little Guy. One of the world's most adorable child actors, his popularity ended when he started to grow up into a young man. In an attempt to regain his former glory, Abraham turned to plastic surgery, having over 421 surgeries. Over the course of these surgeries, his mouth slowly turned into a permanent grin. His first role after the surgeries was as a mutant in a monster movie, and the producers of the film requested that he didn't wear any make-up. Shortly after this, he killed himself, and was approached by The Seven Deadly Sins to become the new physical representation of Pride. Not long into his time as Pride, he was killed by Ash Williams in a Hell House.

This character is an adaptation of Pride, a character in traditional stories. These include, but may not be limited to religious texts, myth, and/or folk lore. More information on the original can be found at Wikipedia.org.
Ad blocker interference detected!
Wikia is a free-to-use site that makes money from advertising. We have a modified experience for viewers using ad blockers

Wikia is not accessible if you've made further modifications. Remove the custom ad blocker rule(s) and the page will load as expected.