Tarzan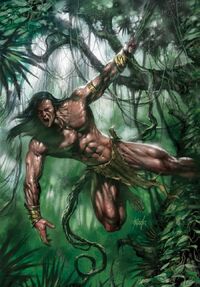 Real Name
John Clayton III
Aliases
John Clayton; Lord Greystroke
Base Of Operations
Mobile
Characteristics
Status
Origin
Tarzan was born to Alice and John Clayton after they ended up stranded in a jungle in Africa. Some time later, Tarzan was now an adult and capable of fending for himself when mutineers had taken Jane Porter, Archimedes Q. Porter, Esmeralda and Cecil Clayton as hostages. Fortunately, the hostages were able to escape and found themselves on the hunting grounds of Tarzan.
Jane and her companions were then confronted by the same group of apes which killed Lord Greystoke about 20 years prior, but Tarzan was able to save them.
Currently, Tarzan has assembled a team of adventurers to help aid Jason Gridley.

Powers and AbilitiesEdit
Abilities
Marksmanship
- Tarzan has learned how to use a bow and arrow.
Strength level
Tarzan is stronger than the average human.
Ad blocker interference detected!
Wikia is a free-to-use site that makes money from advertising. We have a modified experience for viewers using ad blockers

Wikia is not accessible if you've made further modifications. Remove the custom ad blocker rule(s) and the page will load as expected.