El Gato Rojo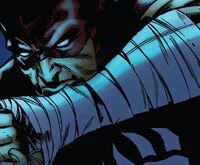 Current Alias
El Gato Rojo
Aliases
Latino Robin Hood
Characteristics
Status
Occupation
Vigilante; Mixed-Martial Artist; former Military
Origin
Tomas Gonzalez is the vigilante known as El Gato Rojo, who is described as being a Latino Robin Hood. He was once part of a team which also included Green Hornet, Nikki Stripez, Pyramid and Blamazon. Tomas, Nikki and Green Hornet are the only surviving members of the team.

Powers and AbilitiesEdit
Abilities
El Gato Rojo is Spanish for The Red Cat.