Valeros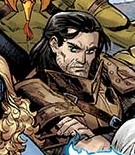 Aliases
Valeros the Fighter
Characteristics
Status
Origin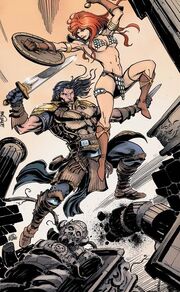 Valeros is a skilled fighter, who was fighting Thulgroon alongside his allies, Kyra, Merisiel and Seoni, before being teleported to Worldscape. As he woke up, unaware of his location, he found that three bandits were trying to rob him of his belongings before they would kill him, so he stabbed Gannus through the jaw, then fought Kelgeth, before overpowering him and throwing him to the ground, and then cut off De Moire's hand and proceeding to fight Kelgeth yet again, and thus threw him to the ground again, and then cut De Moire's head in half, and finishing off Kelgeth. After dealing with the bandits, a White Ape attacked, nearly killing him, but he managed to wound it, and it was subdued by a group of Therns before it could finish him off. Lady Xanesha then took Valeros to the arena in Shareen, where he was to fight against other prisoners to become Empress Camilla's new champion. After defeating, but sparing Pha, he had to fight the current champion Red Sonja. While fighting Sonja, he noticed that Merisiel was there too, stood next to the Empress herself, and while he was distracted, Sonja caught him off guard and guided her blade through his gut.

Powers and AbilitiesEdit
Powers
None
Abilities
Swordsmanship - Valeros is an expert swordsman who usually does not kill his opponent unless they deserve it.

ParaphernaliaEdit
Weapons
Ad blocker interference detected!
Wikia is a free-to-use site that makes money from advertising. We have a modified experience for viewers using ad blockers

Wikia is not accessible if you've made further modifications. Remove the custom ad blocker rule(s) and the page will load as expected.