The Face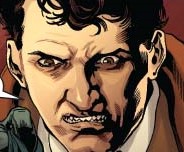 Characteristics
Status
Origin
First appearance
Appearance of Death
Vito Cerelli was a Nazi villain known as The Face who led a mob in Chicago. He was eventually killed after being thrown from the Nazi's GM Futureliner and hitting his head on the ground, causing serious injuries and he bleed out. The Green Hornet then transported his corpse to his mob's hideout to show that their boss was now dead, and he claimed to be the one who killed him.

Powers and AbilitiesEdit
Powers
None

ParaphernaliaEdit
Transportation
Nazi GM Futureliner
Weapons
Knife
Sub-Machine Gun - He was using a sub-machine gun before his death.
Ad blocker interference detected!
Wikia is a free-to-use site that makes money from advertising. We have a modified experience for viewers using ad blockers

Wikia is not accessible if you've made further modifications. Remove the custom ad blocker rule(s) and the page will load as expected.