Wah Krr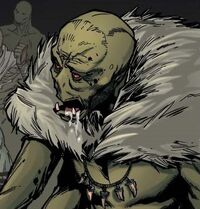 Characteristics
Unusual Features
Green skin, multiple arms
Status
Origin
Wah Krr is the chieftain of the Warhoons, but he is old and many, including Pak Urr, consider him not to be worthy or capable of being Chieftain of the Warhoons.
Ad blocker interference detected!
Wikia is a free-to-use site that makes money from advertising. We have a modified experience for viewers using ad blockers

Wikia is not accessible if you've made further modifications. Remove the custom ad blocker rule(s) and the page will load as expected.