Xena the Warrior Princess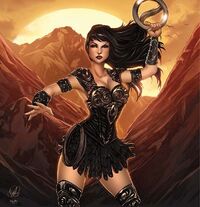 Current Alias
Xena the Warrior Princess
Characteristics
Status
Occupation
Warrior Princess
Origin
History of character is unknown.

Powers and AbilitiesEdit
Abilities
ParaphernaliaEdit
Weapons
Sword
Xena was originally a character introduced in Hercules: The Legendary Journeys, before having her own TV series.
She was originally a villain who fought against Hercules, but she eventually decided to join the side of good.
In Hercules: The Legendary Journeys and Xena: The Warrior Princess, Xena was portrayed by Lucy Lawless, who is currently married to Xena co-creator, Robert Tapert.